Under the Same Sky (Half a World Away)
Kevin Andrew Morris
DAS Project Space: 1-7th October
Preview: Friday 1st 6-8pm
Opening Hours:
2nd-5th 12-4pm
6th & 7th 6-8pm
DAS Project Space, Deemouth Artist Studio Torry, Unit 4, Deemouth Business Centre, South Esplanade East, Aberdeen, AB11 9PB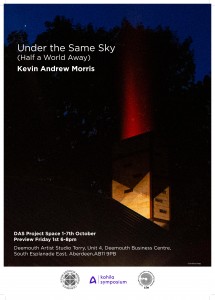 The physical, social, and cultural landscape and environment Morris finds himself in is hugely important to his current work and development, previously having had opportunities to develop wood firing within his practice locally and further through international opportunities the most recent of which was as part of this year's Kohila Symposium in Estonia. Opportunities to travel, research and make work internationally have been important to Morris recently but opportunities to work locally are also perfectly suited for the development of his practice and the themes present in his work. Under the Same Sky (Half a World Away) comprises work made in Estonia, Scotland and Iceland over 2020/2021
Kohila Symposium is an annual international wood fired ceramics event held in Kohila Parish, Estonia. Over the past 20 years, the symposium has hosted 196 prominent and emerging artists from 31 countries. This event encourages an international exchange in the field of ceramics as well as enhances appreciation and understanding of wood firing. Every year up to 13 artists are invited for a three-week period to create new work, collaborate, fire kilns, and share experiences and knowledge beyond one's individual practices. This year participants were invited from Estonia, Scotland, Argentina, Russia, Japan, Belgium, Finland, Cyprus, Israel, Spain and the United States. During this time artists also gave presentations, took trips to sites of interest around Estonia and took part in different cultural experiences. The symposium culminated with a final exhibition at the Tohisoo Manor Park and Paper Factory
Initially motivated by an investigation of his own family heritage and material culture Morris's recent work engages with concepts of craft, material, and place, often exploring themes of multi-generational craft. Making narrative work that considers traditional and contemporary practice as well our collective connections to heritage and tradition. Thematically his recent work has been shaped by northern landscapes, exploring themes of identity and place often through local eating and drinking cultures, focusing on these narratives and rituals associated with living within northern places, and how these actions preserve intimate and strong connections towards 'north' as itself, a place. Drawing from previous projects and taking inspiration from his surroundings the work made in Kohila during the symposium was inspired by the domestic setting of Tohisoo Manor, the natural and social environment he found himself in, material culture as well social and cultural aspects of Estonia.
Wood firing is a continuation of technology and tradition from ancient history into contemporary practice, the characteristic earthen tones, ash deposits, burnt sienna flashings, natural glaze surfaces, and spontaneous effects, are something Morris embraces as part of this firing. Integral to his practice is participation and engagement, valuing opportunities to continue to learn and work alongside others. Morris continues to build on and develop the use of wood firing in his own work believing by its very nature wood firing forges cohesiveness and symbolizes the intrinsically communal and collaborative aspects of ceramics as an art form, firing the Anagama at Kohila epitomised this. The opportunity to be creative, connect and engage with others through the firing was even more appreciated in this time of social distancing and self-Isolation where we have all been forced to consider new ways of working, maintaining connection, and embracing change.
For more information visit https://fb.me/e/1KhxlR4aH