SPA member George Young at St Andrews Pottery is raising funds for the charity Ruvuma Development Aid in Tanzania which is building a secondary school.
The money you kindly donated last year allowed us to finish the teaching blocks for the secondary school which is doing really well. The first group of students will graduate this year with lots more opportunities ahead of them than would have been possible without your help, so thanks from all of them.

This year we are building an accommodation block for the secondary school girls which will create a safe environment and give them more privacy.

It will also make the school more attractive for the paying students and bring the school closer to becoming self sufficient.

There are various ways to contribute by ordering Bird Feeders, Named Mugs or having a go at throwing a pot.

All donations will have 50% added to them by Tom Hunter the Scottish philanthropist which is a real boost to the final total!
If you would like to donate directly to my Just Giving page just follow this link :

www.justgiving.com/DundeeKiltwalk2022-GeorgeYoung

Please note : After you have filled in the donation to the charity on the following page there is a voluntary donation to Just Giving. To avoid Just Giving adding 15% to your donation you can scroll down enter a custom amount and if you click that £1.00 comes up which is more reasonable.
Also if you decide to purchase one of the Named Mugs or Bird Feeders could you please email me about payment as all donations have to be in by August 21st to benefit from the 50% boost.
Mugs
I am selling Personalised or Named Mugs for £10.00. All proceeds will be donated to the charity. They come in two sizes and two shapes. Straight sided and Round in the Celadon Glaze only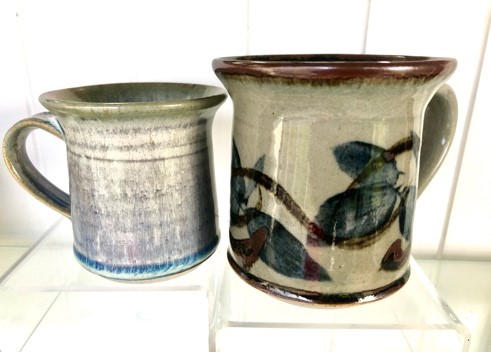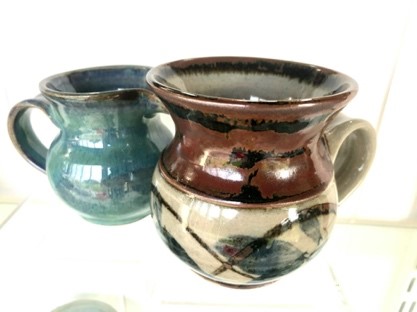 The large size is appx. 100mm high x 95mm wide and holds appx 350ml.
The smaller size is appx. 90mm high x 80mm wide and holds appx. 200ml.
Email your orders to george@standrewspottery.co.uk
Give details of what you would like written on the mugs remembering that there is limited space and the lettering is done by brush.
Payment preferably with order by cash or BACS
Mr George Young Current Account
Sort Code : 82-67-30. Acc No : 40510658
Please mark payments CHARITY MUGS
Birdfeeders
I have made a batch of bird feeders which can be hung from a bird table or tree and are filled and ready to use, so an ideal gift for you or a friend and the birds! They cost £10.00 each and all the proceeds will be given to the charity.
Email your orders to george@standrewspottery.co.uk
Payment preferably with order by cash or BACS
Mr George Young Current Account
Sort Code : 82-67-30. Acc No : 40510658
Please mark payments CHARITY BIRD FEEDER
Any queries call me on 07759522286
Many thanks for your contribution