KILN SHARE: A NEW KILN SHARING PLATFORM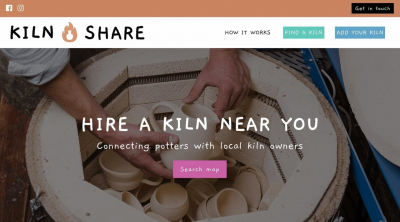 Kiln Share is a new, global kiln directory website that helps connect potters looking to hire a kiln with local kiln owners. The platform is on a mission to make kiln access more accessible for everyone whilst supporting kiln owners to earn extra income from renting out their firing equipment.
FIND A LOCAL KILN TO HIRE
Launched in April 2021 by a 'kiln-less' hobby potter, Kiln Share has been very well received in the pottery community with over 40 kilns already listed across 4 countries.
Whether you're a newbie hobby potter looking to fire your first creations or an experienced ceramicist who needs extra kiln space, you can search the interactive map for free using your postcode. On kiln listing pages you can view kiln information such as internal size and firing rules and quickly contact kiln owners directly.
LIST YOUR OWN KILN TO EARN EXTRA INCOME
If you rent kiln space to other local potters, then why not join Kiln Share? Your full address is not required, just your postcode and few details about your equipment. The platform is 100% FREE to join - you can edit or remove your kiln listing at any time. Founder, Mike says "Kiln Share has been built so the kiln owner is always in control. You do not have to fire a potter's work just because they sent you a message. As it's your kiln equipment, potters follow your rules and your pricing'.
As there are so many variables with firing pottery, Kiln Share simply connects the two parties together. It's up to the kiln owner and potter to discuss firing rules, agree pricing, payment terms and timescales with each other, away from the platform in their own time.
KILN SHARE UPDATES

New kilns in the UK and around the world are being listed everyday! You can keep up to date by following Kiln Share on Instagram and Facebook or subscribing for monthly new listing email updates on the website.
Find a kiln to hire: www.kilnshare.com/search/
List your own kiln: www.kilnshare.com/sign-up/
If you have any questions about Kiln Share, you can email Mike on info@kilnshare.com.
Happy firing! ️‍