Potter offers piece inspired by Euro 2020 racism to raise money for the relief of food poverty
Hannah McAndrew
, a potter in south
-
west Scotland, has made a large (48cm diameter) slipware charger in response
to the racist attacks received by players during the
Euro 2020
final. T
his unique piece is to be offered in a prize draw for FareShare, the charity championed by England International Marcus Rashford.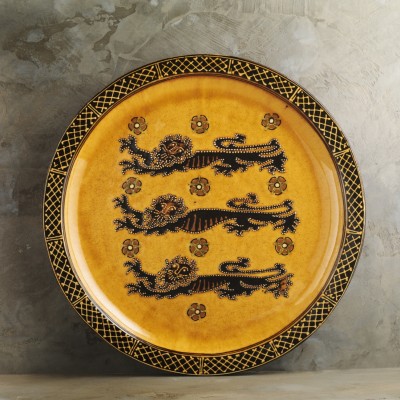 This piece was made by internationally renowned potter, Hannah McAndrew, in response to the racial abuse received by the three England players who missed their penalty kicks during the Euro 2020final. Marcus Rashford, Jadon Sanchoand Bukayo Sakadid their best under huge pressure, only to be subjected to a barrage of abuse due to the colour of their skin.
Hannah is not a football fan and happy to admit it, and now lives in Scotland, but was taken by the conduct of the English team in this tournament. She says
"They have taken a very clear and united stand against racism both on and off the field. From what I can see, football teams have huge influence with their supporters, so using their privileged position to send out this powerful message of tolerance and inclusion to fans of all ages can only be a good thing."
The illustration of lions on slipware pottery is nothing new. These three lions, combine a nod to the England team crest, with influences derived from the immense and intricate chargers by Thomas Toftin the late 17th Century. It was made with a mixture of slip trailing and paper resist techniques and has a rich honey glaze which gives the slip colours a deep warmth and vibrancy. The rim has been divided into thirteen sections, each filled with slip trailed cross hatched lines. The thirteen sections represent the thirteen countries other than England that members of the Euro 2020 England squad could have played for. Hannah purposely chose black as the colour for these lions.


Hannah McAndrew has been a potter for over twenty years and has built up an international reputation for making highly decorated pots within this genre. She was recently accepted as a Fellow of the Craft Potters Association. Slipware is her passion and obsession. Hannah loves to decorate pots and spends many hours covering surfaces in intricate patterns and imagery. This piece is unique. Hannah makes large chargers regularly; she adores the wide surface and the potential that has for holding decoration.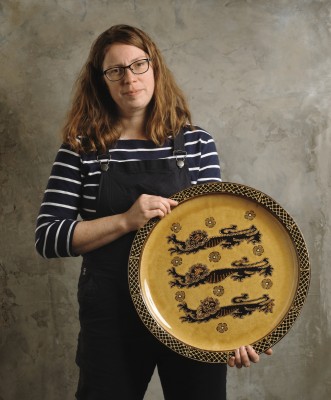 This is the only one of this design, though it could have been sold many times over when exhibited it at a large pottery festival recently and when it was first shown on the internet. Hannah wanted to hold it back to try to do something bigger with it. The title of the piece, 'This is England ' is borrowed from the poignant dialogue performance by Stormzy, Dave, and Ian Wright during the TV coverage of Euro 2020. In particular the lines 'the past can't hurt us. The future can inspire us. This is England, modern England'.


The charger is being offered in a prize draw on
Crowdfunder.co.uk
to support the work of FareShare. FareShare is a charity network aimed at relieving food poverty and reducing food waste in the UK. England International footballer Marcus Rashford has been an ambassador of FareShare since March 2020.
Contact: Hannah McAndrew
Phone: 07789735398


High-res images available on request.